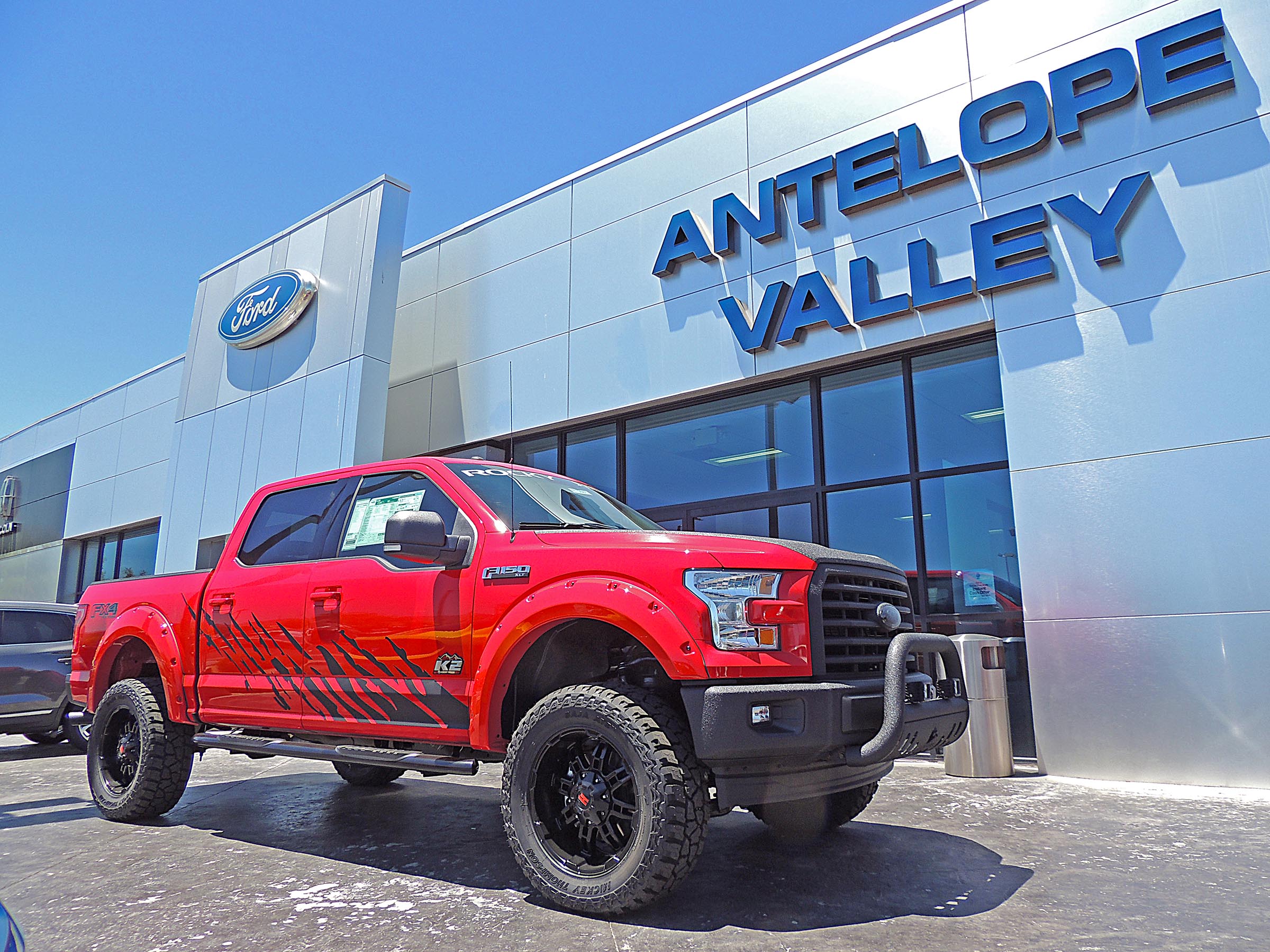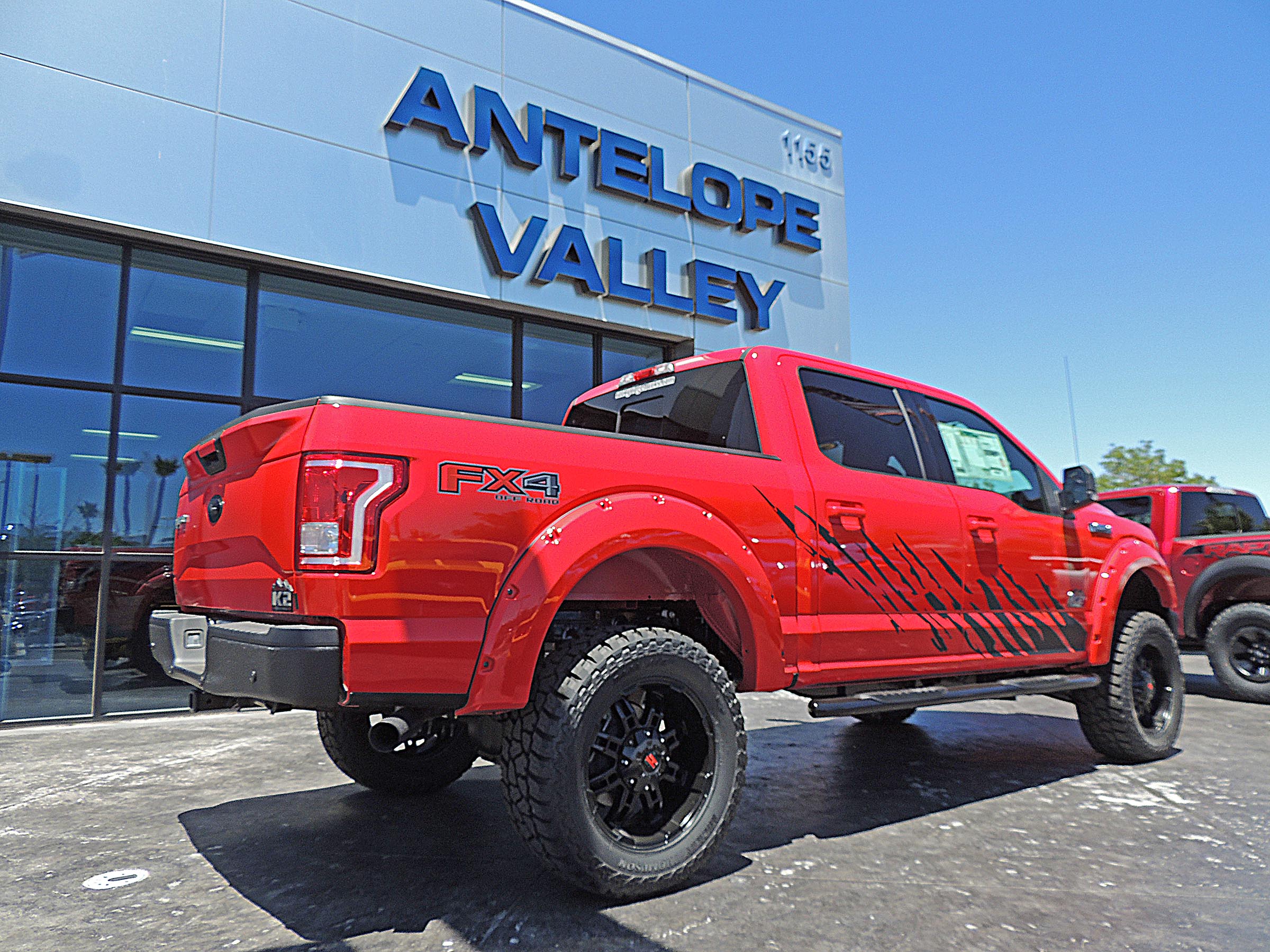 AV Ford is proud to offer these top quality Rocky Ridge Custom trucks! These trucks are styled for a smile and built the right way. The Rocky Ridge package has some great features! Roll in Unique Style that you can only find at AV Ford!
6"  Rocky Ridge Suspension Lift Kit
Rocky Ridge Front and Rear Cross-Members
Rocky Ridge Front Strut Tower Extension Compression Struts
Brake Line Relocation Bracket
ES 9000 Rear Shocks
Custom Wheel and Tire Package
20" Black Powder Coated Wheels (Exchange) 
35" All-Terrain Tires (Exchange) 
Four Wheel Alignment 
Complete System Recalibration 
Road Force Balancing
Black Bull Bar w/LED Lights
Body Color Pocket Fender Flares
Stainless Steel Dual Exhaust
Black Ceramic Exhaust Tips 
Wide Oval Black Step Bars
Rocky Ridge Signature Badging
Black Rocky Ridge Tailgate Emblem 
Rocky Ridge Windshield Banner
Maintenance and Care USB Drive
3 years/36,000 Mile Warranty
Premium Options
Custom Leather Seating
Heated Front Seats
Spray-In Bedliner
Flowmaster Muffler
Custom Fade Paint
Custom Two-tone Paint
Power Side Steps
Stealth Coated Hood
Splash Graphics
Rocky Ridge has been family owned and operated for over thirty years. What began as a small business during the mid-eighties, has transformed into a "full-line Specialty Vehicle Manufacturer building Lifted Trucks, SUVs, Vans and Cars". Rocky Ridge's conversions are widely recognized as the highest quality vehicles throughout the industry.
Excellence is a high priority for the team at Rocky Ridge. Obviously every conversion we complete is aesthetically pleasing, but we also go above and beyond to maintain the integrity of each vehicle. Even post-conversion, Rocky Ridge Trucks have superior ride-ability both on and off road. Our vehicles are still able to haul and tow as the manufacturer originally intended, without compromising factory quality.
Rocky Ridge Custom Trucks have also been featured in multiple videos for popular country music duo, Florida/Georgia Line. Perhaps our most memorable appearance came in FGL's award winning video for "Cruise featuring Nelly", where a Rocky Ridge Truck sporting the "Altitude" package is highlighted. Rocky Ridge Custom Trucks have also been featured with country artists Kid Rock, Jason Aldean, Luke Bryan, and Colt Ford. Additionally, they are avid sponsors of Jeb Burton, John Hunter Nemechek and Chase Elliott.
Part of what allows Rocky Ridge to maintain such a high standard of quality is that we do all of our conversions in-house, from start to finish. Nine separate facilities make up Rocky Ridge Custom Trucks, and each is dedicated to a specific step of the process. Every truck that comes in will travel to each station as it undergoes its Rocky Ridge transformation. From hydrographic dipping, to touch-less tire mounting, to polyurethane textured coating, to our own custom brand of suspension lifts. Every detail of every vehicle is meticulously cared for from start to finish.